Since our founding in August 2013, Cuba Libro has initiated and grown donation programs throughout Havana; in 2016, we expanded these programs to other provinces and are continually meeting with possible collaborators and conducting outreach to identify new recipients. We're very proud of our donation strategy - based on distributing the most needed items to the most vulnerable - and are constantly evolving so that we can identify and reach the underserved both in our immediate community and beyond.
You can follow your donations, our initiatives and how we're growing community on our Facebook and Instagram pages @cubalibrohavana.
When the COVID-19 pandemic began sweeping the world, we took the decision, collectively, to close voluntarily in order to protect the health of our team and community. Nevertheless, thanks to the unflagging support from our local and global community, our donation program of sorely needed medicines, vitamins, and personal hygiene products continued throughout our closure, we never missed a month of rent to our friends and neighbors who own the property, and we were able to maintain minimum salaries for the entire, 7-person, all-Cuban team.  
The joy emanating from our corner of Calle 24 & 19 wafted far and wide when we were able to re-open in late 2020, re-affirming our conviction that having a cozy, verdant, fun and economical place to (safely) gather is essential to communal health and well-being. Whether you left behind a good book, bought a coffee for one of our medical professionals or sponsored the #dayofnodrama, wrote in to cheer us on, recharged a phone, shared our link and vision or participated in our virtual competition, your support is felt. We believe everyone has something to contribute and it doesn't have to be money.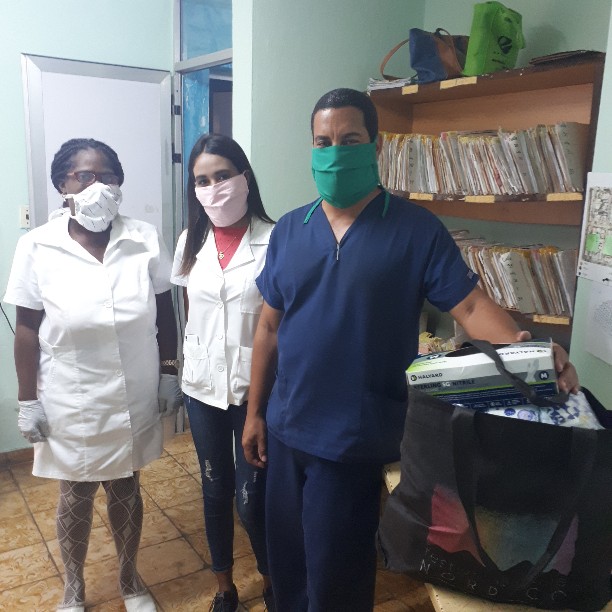 In addition to our material and financial support for different projects and populations, we have gifted over 30,000 condoms as part of our commitment to public health since initiating our free condom program in 2014. That same year, we began supporting pregnant women and new moms with donations of prenatal vitamins, folic acid, diapers, and more. This robust program has continued through pandemics, politics and hurricanes and to date, we have helped welcome over 20 new babies into our world. The economic situation in Cuba remains fragile, with severe shortages of many basic items, and we are working harder than ever to ensure donations reach the people who need them. When disaster strikes -- whether a tornado, hurricane, building collapse, house fire or industrial explosion -- Cuba Libro is there to donate; these are real examples of post-disaster victim assistance we have provided in just the past few years. 
Cuba Libro is also a regular patron and supporter of the arts. To date we have hosted scores of free concerts, DJ sessions and art openings; donated museum-quality art paper to half a dozen (and counting!) local artists; donated several musical instruments, strings, reeds and other musical materials; and provided props for the teleplay Muerto por Carol (2020) and the independent documentary Los Cercanos Dias del Amor (2021). 
For a list of the most-needed material donations, please scroll down and consider donating on your next trip!
None of this would be possible without the dedicated work - day in, day out - of our wonderful team and generous donations by people like you. If you are interested in learning about the various ways to support us, whether through financial or material support, or in other ways, please get in touch. 
At the bottom of this page you'll find a list of books our community has come to us seeking - feel free to bring down a couple or three on your next trip. 
Are you coming to Cuba? Want to support our community programming? There are many ways to do so - please drop us an email and we can give you some options. 
So to all of you: THANK YOU and stay healthy.  
For a list of books we are actively trying to curate, please scroll down and consider bringing down one or three on your next trip!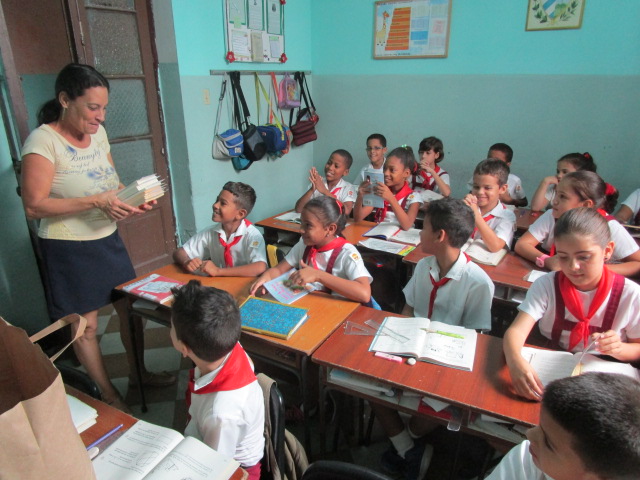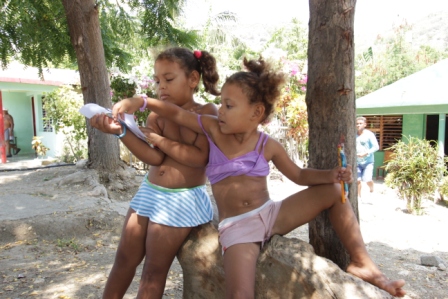 MATERIAL DONATIONS
Cubans across the island are suffering due to the combination of even stricter US sanctions, the global recession resulting from the COVID-19 pandemic and a coordinated, politcized media campaign demonizing the island and advising people not to travel there. This suffering touches each and every Cuban -- regardless of politics, race, religion, economic status, gender or sexual orientation (although some groups are more adversely affected than others). We work closely with family doctors, elementary school teachers, administrators of orphanages, animal activists, the LGBTQA+ community and others to understand what materials they need most and how we can satisfy that need.  
Please note we are not accepting general clothing donations at this time. Due to the current transportation and energy crisis and the small size of our team, we are not able to pick up donations. If you are making a donation, please assure you have the time, energy and resources to bring them to Cuba Libro. Gracias!!
Drop off: Calle 24, corner 19, Vedado​​​​​​​; Phone: 7 830 5205 (landline); 5 197 1567 (cellular)
As of October 2023, the items most needed by our local and regional community include:
Wheelchairs (we have multiple requests from high-risk vulnerable people and polyclinics)
Washcloths
Eyeglasses (cheap cheaters, 2.00 and above)
Condoms
Insect repellant
Hand fans
Grapefruit seed extract (for intestinal problems)
Water purification drops
Flashlights
Candles
Lighters
Solar powered radios, flashlights, fans
Large, strong garbage bags
Diapers (adult and infants)
Powdered milk
Prenatal vitamins
Folic acid (including high dosage for patients undergoing radiation)
Burn cream
Pulse oximeters
Blood pressure monitors
Pediatric nasal catheters (cannulas)
IV ports – adult and pediatric
Intraosseous trocars
Colostomy bags
Gloves – surgical and exam
Syringes
Gauze (sterile)
Vicks Vapo Rub (or equivalent)
Lidocaine patches (or similar)
Asthma inhalers
Thermometers (in CELSIUS, not digital: batteries are hard to find/expensive)
Alka Seltzer
Glucosamine
Collagen
Omega 3
Calcium with Vitamin D
Vitamin D combo Vitamin K
Injectable vitamin B complex
Tetracycline
Amoxicillin
Multivitamins (including for seniors)
Vitamin C
Cold & flu medicine for children
Emergen-C vitamin c powder packets
LGBTQI+ flags, ribbons, buttons, etc
Bike lights
Bike locks, seats, brake pads and cables
Bike tires and inner tubes
Tops
Jacks
Energy/protein bars
Electrolyte powders
Instant soups
Blank notebooks
Coloring books
Rubber bands
Envelopes
White knee socks (girls school uniform)
White ankle socks (boys school uniform)
Flip flops (childrens)
We are also helping support over half a dozen Cubans with chronic disease. If ypu are able to access any of the following prescription medications, please get in touch.
Hidroclorotiazida
One Touch diabetic test strips
Glucometer with test strips
Clopidogrel
Carvedilol
Metformina (1000 or 500mg)
Enalapril
Glibenclamida
Nifedipino
Neurobion inyectable, 10 ampules
Centrum – vit B1, B6 y B12 oral
BOOK DONATIONS
Almost all of our books are donated, meaning you can touch many lives by giving a book. We prioritize curation of those books our community comes to us seeking; we conduct several surveys throughout the year to identify specific titles. By stocking these titles/genres/authors, we remain relevant and responsive to our community. If you'd like information on how to send us books through the mail, please drop us an email.
Our most recent readers' survey in the first quarter of 2023 revealed the titles people are after include:
Anything by Dodie Bellamy
Anything by Jordan Peterson
Anything by David Foster Wallace
Anything by Colleen Hoover
Anything by Terrence McKenna
Anything by Tolkien
Anything by Thomas Friedman
Anything by Becky Albertalli
Anything by Casey McQuiston
Anything by Adam Silvera
Anything by Charles Bukowski
Anything by Gillian Flynn
Anything by Ozamu Dazai
Anything by Leonardo Padura
Anything by bell hooks
Anything by Emma Scott
Anything by Stuart Gibbs
Cuba and Its Music, Ned Sublette
Old Man and the Sea, E Hemingway
Lord of the Flies, William Golding
Animal Farm, George Orwell
1984, George Orwell
The Tragical History of Doctor Faustus, Christopher Marlowe
Farenheit 451, Ray Bradbury
Wuthering Heights, Emily Bronte
Severance, Ling Ma
The Taking of Jake Livingston, Ryan Douglass
All for the Game trilogy, Nora Sakavic
The Song of Achilles, Madeline Miller
When Marnie was There, Joan G. Robinson
Howl's Moving Castle, Diana Wynne Jones
Cuba: 50 Years of Playing American Football, Christopher A Perez
Harry Potter, JK Rowling
It Ends with Us, Colleen Hoover
Tuesdays with Morrie, Mitch Albom
Architecture of Information, Louis Rosenfeld & Peter Morville
My Policeman, Bethan Roberts
House of the Spirits, Isabel Allende
The Seven Husbands of Evelyn Hugo, Taylor Jenkins Reid
Conversations with Friends, Sally Rooney
Beautiful World, Where, Sally Rooney
One of us is Next, Karen M McManus
The Ballad of Songbirds and Snakes
Thirteen Reasons Why, Jay Asher
Looking for Alaska, John Green
Normal People, Sally Rooney
Boy Parts, Eliza Clark
This is Pleasure, Mary Gaitskill
Trick Mirror, Jia Tolentino
The Bell Jar, Sylvia Plath
What is a Teen like for a Girl, Paris Lees
Play it as it Lays, Joan Didion
Just Kids, Patti Smith
Bluets, Maggie Nelson
Exciting Times, Naoise Dolan
A Little Life, Hanya Yanagihara
The Uncensored Picture of Dorian Gray, Oscar Wilde
To Killl a Mockingbird, Harper Lee
Giovanni's Room, James Baldwin
Song of Achilles, Madeline Miller
Frankenstein, Mary Shelley
The Picture of Dorian Grey, Oscar Wilde
The Neverending Story, Michael Ende
Call me by Your Name, André Aciman
You, Caroline Kepnes
Harry Potter and the Order of the Phoenix, JK Rowling
Harry Potter and the Deathly Hallows, JK Rowling
Harry Potter and the Half-Blood Prince, JK Rowling
Moby Dick, Herman Melville
Diary of Anne Frank, Anne Frank
A Promised Land (Vols 1 & 2), Barack Obama
Silent Spring, Rachel Carson
A New Earth, Eckhart Tolle
Shogun, James Clavell
Chronicles of Narnia, CS Lewis
A Brief History of Time, Stephen Hawking
Man's Search for Meaning, Viktor Frankl
Homo Deus, Yuval Noah Harari
Good Night Stories for Rebel Girls, Francesca Cavallo
I Dissent: RBG Makes her Mark, Debbie Levy
The Lacuna, Barbara Kingsolver
Animal, Vegetable, Miracle, Barbara Kingsolver
The Outermost House, Henry Beston
The Overstory, Richard Powers
White Fragility, Robin DiAngelo
The Fault in Our Stars, John Green
Games of Thrones Trilogy, George R R Martin
Hunger Games Trilogy, Susan Collins
Becoming, Michelle Obama
It, Stephen King
Letters from Cuba, Ruth Behar
Cuba Hot & Cold, Tom Miller
The Creative Spark, Michael Shapiro
Havana Noir, Achy Obejas
Fire & Fury, Michael Gross
Treat us Like Dogs and We Will Become Wolves, Carolyn Chute
Feminasty, Erin Gibson
Cubanissimo, Cristina Garcia (ed)
Kill 'Em and Leave, James McBride
Beartown, Fredrich Bachman
A Man Called Ove, Fredrich Bachman
The Last Day of Our Fathers, Joel Dicker
The Psychoanalysis of Fire, Gaston Bacelard
The Second Sex, Simone de Beauvoir
Pale Fire, Nabokov
The 5AM Club, Robin Sharma
Saved by the Sea, David Helvarg
The White and the Black, Harold Pintner
Cuban Revolution in America, Teishan Latner
Anything by Thomas Pynchon
American Gods, Neil Gaiman
The Art of Not Giving a F*ck, Mark Manson
Everything is F*cked, Mark Manson
To Have and Have Another, Philip Greene
Havana Without Makeup, Herman Portocarero
300 Reasons to Love Havana, Heidi Hollinger
Cuba in Mind, Maria Finn Dominguez
100 Places in Cuba Every Woman Should Go, Conner Gorry
Cuba by Bike, Cassandra Brooklyn
The Gift of Fear: Survival Signals that Protect Us from Violence, Gavin de Becker
Anything by John McPhee
Anything by Henry Miller
Anything by Anais Nin
Anything by David Rowe (these following are all renowned caricaturists and are requested by Cuban artist and Cuba Libro collaborator Brady)
Anything by Steve Brodner
Anything by Kevin Kallaugher
Anything by Anita Kuhn
Anything by Graeme Mackay
Anything by Rob Dunlavey
Anything by Steve Breen
Anything by Tom Fluharty
The Kon-Tiki Expedition, Thor Heyerdahl
A Field Guide to Getting Lost, Rebecca Solnit
Wanderlust: A History of Walking, Rebecca Solnit
Men Explain Things to Me, Rebecca Solnit
Lonely Planet, Cuba
500 Hidden Secrets in Havana
The Education of an Architect, John Hejduk
José Marti: Cuban Apostole: A Dialogue (2013), Cintio Vitier & Daisaku Ikeda
Anything by José Martí
This Wheel's on Fire, Levon Helm
The Complete Beatles Songs, Steve Turner (this is hugely popular)
Anything by JD Salinger
Black Hole, Charles Burus
The Complete Persepolis, Marjane Satrapi
Dracula, Mike Mignola
Ronin, Frank Miller
Batman: Year One, Frank Miller
Kingdom Come, Mark Waid & Alex Ross
V for Vendetta, Alan Moore
Watchmen, Alan Moore
Portnoy's Complaint, Philip Roth
Negroes with Guns, Robert Williams
A Contemporary Cuba Reader, Philip Brenner et al, eds
Cuba: A New History, Richard Gott
Drown, Junot Diaz
The Brief Wonderous Life of Oscar Wao, Junot Diaz
This is How You Lose Her, Junot Diaz
The Poet, Ralph Waldo Emerson
Nature, Ralph Waldo Emerson
Where the Boys Are, Van Gosse
Prose Contribution to the Cuban Revolution, Allen Ginsberg
Planet Cuba, Rachel Price
Back Channel to Cuba, Peter Kornbluh
Listen Yankee!: Why Cuba Matters, Tom Hayden
Double Life of Deacon Brody, R.L. Stevenson
Time Out Film Guide
Rolling Stone, Encyclopedia of Rock & Roll
Anything by Naomi Klein
Sartre on Cuba, Sartre
Talking to Fidel, Peter Kornbluh
World Guide, New Internationalist
Adios Muchachos, Daniel Chavarria
Jimmy Corrigan, Chris Ware
Memorias del Fuego, Eduardo Galeano
Cocktail Time in Cuba, Basil Woon
Buena Vista in the Club, Geoff Baker
What Everyone Should Know about Cuba, Julia Sweig
Cuba/Havana Guidebooks
Cubana: Contemporary Fiction by Cuban Women, Mirta Yáñez (ed)
Open Your Eyes and Soar: Cuban Women Writing Now, Mary G. Berg, ed
Havana is a Really Big City, Sarah Cooper, ed
Disconnect, Nancy Alonso
Ophelias, Aida Bahr
A Corner of the World, Mylene Fernández Pintado
The Beautiful and the Damned, F Scott Fitzgerald
The Man Who Loved Dogs, Leonardo Padura
Havana Red, (or Blue or Black) Leonardo Padura
Vital Signs, Pedro de Jesus
New Short Fiction from Cuba,  J. Loss & E. Whitfield, eds
Cuba on the Edge, M. Berg, P. Carmell, &  A. Fountain, eds
Cuba: A Traveler's Literary Companion, A.L. Bardach, ed
Cuban Revelations: Behind the Scenes in Havana, Marc Frank
Cuban Economic and Social Development: Policy Reforms and Challenges in the 21st Century, Jorge Dominguez, ed
Best Women's Travel Writing, ed by Lavinia Spalding
Anything by  Paco Ignacio Taibo II (especially his non fiction; in English, please)
Underworld, Don Delillo
Mao II, Don Delillo
Great Jones Street, Don Delillo
White Noise, Don Delillo
Auto/Biographies (of any type; Cubans love them)
Cookbooks
SELECTION OF WHERE WE'VE DONATED -- 2016-2023 (Havana unless otherwise noted) 
Academia de Idiomas, Nuevo Vedado
Animal Health Clinic, Quinta de los Molinos
Bienestar Animal Cuba (BAC) Habana
CDR #8, Quivicán (Mayabeque)
Challenger Escambray Mountain Bike Competition (Sancti Spiritus)
Centro Memorial Martin Luther King, Jr
Cooperativa Jesús Menéndez (Artemisa)
Copa de Viñales Mountain Bike Event, Proyecto Jibaro
Cotorro Animal Rescue
Department of Neuro Opthalmology, Pando Ferrer Eye Hospital
Department of Neurosurgery and ICU, Calixto García Hospital
Dog Protectors, Necrópolis Cristóbal Colón
Ebenezer Baptist Church
Elementary school children -- Reparto Electrico, Boyeros & Tortuguilla (Guantanamo)
Escuela Especial Dora Alonso (125 children with autism)
Escuela Especial Retoños Martianos (150 developmentally-disabled children, Varadero)
Escuela de Idiomas Extranjeras, Plaza
Escuela Primaria Tomas Romay Chacon
Escuela Primaria La Ceiba del Agua (Artemisa)
Escuela de Secundaria Básica, Rebelión de Vegueros, Boyeros
Escuela Solidaridad con Panama (181 physically disabled children)
Family Doctor's offices #9 & #10 Playa
Federación de Mujeres Cubanas, Bloque 6, Plaza de la Revolucion
Guanabacoa Orphanage
Guanabo Orphanage
Habana Vieja Musical Instrument Repair Shop
Hogar de Ancianos (Quivicán, Mayabeque)
Hospital Hermanos Ameijeras
Hospital Pediatrico William Soler, Oncology Ward
Hospital Provincial Leopoldito Martinez Rodriguez (San José de Las Lajas, Mayabeque)
INDER Outdoor Sports Complex, 23 y B
Inmates, Ceiba 5 min security prison & Combinado del Este max security prison
La Liga Echeverría Baseball Club
Museo Nacional del Cafe
National Network of Trans Women/CENESEX
Proyecto Armonia 
El Rincón del Cristo, Finca Agroecológica 
Rural Nursery School (Paso Quemado, Pinar del Río)
Rural Nursery School (San Diego de los Banos,  Artemisa)
Rural Primary School (La Güira, Artemisa)
Rural Primary School and family doctor's office (Paso Real, Pinar del Rio)
Sexto Congreso Housing Shelter
Therapeutic Clowns of Cuba
Disaster Donations:
Working with our immediate and larger community, we mobilize material and financial, as well as logistical support when disaster strikes. In 2022, Cuba Libro made direct donations to first responders working to contain and extinguish the supertanker fire in Matanzas. In 2020, we made emergency donations to seven families who lost everything in a home fire in 10 de Octubre Municipality and additional emergency donations to the 30 families who lost their homes in the Centro Habana building collapse later that year. After the unprecedented 2019 tornado ripped through Havana, Cuba Libro made donations to four of the hardest hit neighborhoods (Regla, Berroa, El Roble, 10 de Oct), as well as serving as a donation collection center and transportation dispatch for over 50 volunteers. Working with the Centro Memorial Martin Luther King, Jr., Cuba Libro was able to send donations to victims of Hurricane Irma (2017) in Júcaro and Chambas, Ciego de Avila province. 
SELECTION OF INITIATIVES & CULTURAL EVENTS -- 2016-2023
Banned Book Week
Blind Date with a Book Week
Book launch: Cycling in Cuba with author Cassandra Brooklyn
Book launch: The Legacy Letters with author Carew Papritz
Book launch: Made in Cuba with authors Molly Mandel and James Burke
Book launch: Waking in Havana with author Elena Schwolsky-Fitch
Children's Drawing Workshop, with Centro Experimental de Artes Visuales
Cine Nordico LGBTQA+, with Embajada de Noruega
Coffee provision, 11th Annual Harley-Davidson Rally (Varadero)
Coffee provision, Opening National Coffee Museum
COVID-19 compliant booksales, with home delivery by bicycle
Entrepreneur Festival, with Proyecto Armonia
Free drinks on International Day of No Drama (#daynodrama2020)
Free drinks for medical professionals and students on Dia de Medicina Latinoamericano
Inclusion in Mapa Ambiental de la Habana (https://www.ipscuba.net/multimedia/mapa-ambiental-de-la-habana/)
Introduced 100% Cuban produced reusable and environmentally-friendly bamboo straws
Peer-to-peer English tutoring pairing US semester study abroad students with Cubans
Virtual competition Cuba Libro en Da House (recipe competition during COVID pandemic that resulted in new drinks The Durán and The Fauci)
Volunteer Coastal Cleanup, with Acuario Nacional and The Ocean Foundation (USA)
Volunteer Farmwork, Finca Tungasuk (Artemisa)
Volunteer Trail Cleanup and Maintanence, El Rincon de Cristo, Finca Agroecologica
Saved the life of "Tokio," a neighborhood dog (pictured below) who was abandoned when his owner was incarcerated. Anemic, malnourished and full of parasites, we provided treatment, housing, food and water. Today he's back to full health.